Doug Bodrero
Vice Chairman of the IIR Board of Trustees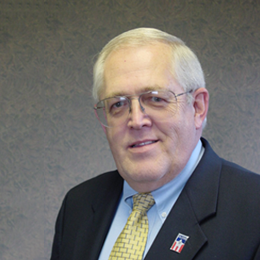 Doug Bodrero serves as Vice Chairman of the IIR Board of Trustees. He retired from his full-time position as President of the Institute for Intergovernmental Research (IIR) in 2015.

During his position as President, Mr. Bodrero was integrally involved in strategic direction, management, and policy issues as well as project design and program oversight. Mr. Bodrero joined IIR in 1997 as a member of the instructional team for the State and Local Anti-Terrorism Training (SLATT) Program. He served as SLATT Director from 1999 until assuming the role of President of IIR in 2003. Under Mr. Bodrero's leadership, the SLATT Program achieved national recognition.

Before joining IIR, Mr. Bodrero served as Commissioner of the Utah Department of Public Safety (UDPS) from 1989 to 1996. UDPS is a full-service law enforcement and public safety agency that includes the Utah Highway Patrol, Bureau of Investigations, Law Enforcement and Technical Services, Peace Officer Standards and Training, State Fire Marshal's Office, Division of Comprehensive Emergency Management, and other law enforcement support operations. Prior to his appointment as Commissioner, Mr. Bodrero served as Deputy Commissioner of UDPS from 1985 to 1989 and was responsible for all operational commands. Soon after joining UDPS, Mr. Bodrero was assigned by the Governor to serve as interim director of the Department of Corrections for the express purpose of instituting major operational and administrative reforms in that agency.

In 1969, Mr. Bodrero began his law enforcement career as a deputy sheriff with the Cache County, Utah, Sheriff's Office. He held the positions of patrolman, sergeant, and lieutenant with the patrol, investigations, communications, detention, and support services commands. He was appointed chief deputy in 1976, and in 1979 he was elected sheriff, a position he held until the Governor appointed him to UDPS.

The Governor also appointed Mr. Bodrero as a founding member of the Utah Commission on Criminal and Juvenile Justice (UCCJJ), the criminal justice planning agency for the state of Utah and the state agency that administers all federal, criminal, and juvenile justice funds awarded to the state. Mr. Bodrero served on that commission for 11 years. Upon Mr. Bodrero's retirement from UDPS, the Governor requested that he serve as chair of the UCCJJ.

Mr. Bodrero is involved in numerous national professional law enforcement organizations, including the International Association of Chiefs of Police Committee on Terrorism. He has taught an upper-division terrorism and extremism course for the University of Utah, as well as a variety of law enforcement, leadership, management, and other criminal justice courses.

Mr. Bodrero is a graduate of the University of Utah with a master's degree in public administration. He also holds a bachelor of science degree in police science from Weber State University. He is a graduate of the Federal Bureau of Investigation (FBI) National Academy, 109th Session, and the FBI National Executive Institute, Session XIII, and has completed numerous specialized courses at the National Sheriffs' Institute; the FBI Law Enforcement Executive Development Seminar, Tenth Session; and the Utah Law Enforcement Executive Development Institute, among others.